Learn cPanel in Urdu Video tutorials training courses in just rupees 500 /= only, for more detail and information you can contact us at our official website cell phone no 03337335044.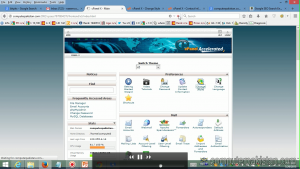 Learn cPanel in Urdu Video Tutorials Watch Tutorials Demo

Read Course Detail for cPanel Urdu Video Course

Course Title: cPanel (Control Panel)
Description:Complete Urdu and Hindi Video Tutorials in DVD/CD
Duration: 6 Hours
Total Videos:12Videos
DVD Size:4.43 GB MP4 file format
Quality: HD Quality 1280px Resolution with Digital Sound Quality
Bonus: e Notes in Presentation
Language: Urdu & Hindi
Availability: Available
Price: Rs:500/= Free Delivery
Table of Full Course Contents

Below list of all  cpanel.com contents Which we have discussed in our video tutorials
›Preferences
›Mails
›SEO and Marketing Tools
›Files
›Logs
›Security
›Domain
›Database
›Software and Services
›Advance
Preferences
›Getting Started wizard.
›Video Tutorials
›Change Password.
›Update Contact Information
›Change Style
›Change Language
›Shortcuts
Mail
›Email Accounts
›Web Mail
›Spam assassin
›Forwarder
›Auto Responded
›Default
SEO and Marketing Tools
›Get in Google
›SEO Tools
›Get More Traffic
›One Click Sitemap
›Link Building
›SEO Tips
›Google Website Services
File
›Backup
›Backup Wizard
›File Manager (Upload Website discussed in next class)
›Legacy File Managers
›Disk Space Usage
›Web Disk
›FTP Accounts
›FTP session Controls
Logs
›Latest Visitors
›Bandwidth
›Webalizer
›Weblizer FTP
›Raw Access logs
›Analog Stats
Security
›Password Protected Directories
›IP Address Deny Manager
›SSL/TSL Manager
›SSH Shell Access
›Hot Link Protects
›Leach Protect
›GnuPG Key
Domain
›Sub Domain
›Ads On Domain
›Park Domain
›Redirect
›Simple DNS Zone
›Advance DNS zone
Database
›MySQL Database
›MySQL Database Wizard
›PHPmyAdmin
›Remote MySQL
Software and Services
›CGI Center
›Site Software
›Pearl Modules
›PHP Pear Package
›PHP configuration
›Optimize Website
›RS Site Builder
›Select PHP Version
›Softaculous
HD Video Quality Screenshot

Conclusion:
Dear Friend as you know that it is very difficult to mange your website at back end we have discus all are thing which help you to create a complete website. please contact us if you have any query.