In this post we will talk about Make Money Online from Link Sharing – Work from Home Jobs. Today I will tell you the way of earning through short links. Watch below training video must. After that you will be able to know the right procedure of doing work.
.
declaimed:
Dear visitors keep one thing clearly in your mind. We provide this job only for part-time. Do not make this work permanently for your life.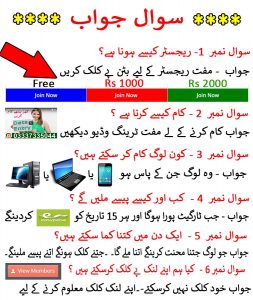 This job is valid for Pakistani. You can get free training, Free work with no limitation of time. It depends on you how much you work and what you earn.
How to Do I Work and Make Money Online from Link Sharing ?
It is very simple. First create short links for our video training courses. There is no limit to create short links. Here is website below for generating links.
Step 1
Send your PPC Agreement, Terms & Conditions, Visit:  PPC Agreement web page and copy text and send it to admin email address.
Step 2.
Step 3.
Get links from our website for work.
computerpakistan.com/links.html
Step 4.
After Completion of 10,000 clicks send us an email for fund transfer. Also send list of your short links. As we can check your work. Only Pakistani clicks are countable.
Don't submit your links on foreign's websites. Work sincerely, Don't spamming, Don't use robot to make your work easy, In fact if you will do this, Defiantly you will not get any benefit.
Follow us on Social Media
Final Words:
Dear we have worked hard to explain everything clearly and simply. In spite of that if you have any other problem please submit your comment here.
Our all other project has been suspended. If you want to stay up to date with our website please subscribe our website. Just add your email address and then confirm it. Click below to get enrolled.