In this Android development application course, I am going to define you how to create an apk app with my course it is complete video training course in Urdu language.
Watch Video Training Video for this Article
After completing of this course, you will be able to Create your own application. In addition, upload it on Google Play Store. We will help you stay by step with this technology we use mobile studio Java programming language.
Watch below demo which will help you much better. How you can get this course from US and what you will learn in this course. Ok anyway no problem I am going to define you step-by-step.
First, you need to learn Java programming language after that you need to run Google studio. How to use these factors to make an application. No doubt designing and APK application so that is why I would like to tell you step by step.
You are very sincere about making android. Application then this course is outstanding for you because we are going to explain. This kind of application with 7-year experience.
Android development application course
I also share with you where you can upload this. Application and earn a lot of money okay first of all you first need to understand. How to create a basic level application of the trade with your programming skills and day by day.
My dear friend you must have to purchase this course. Because it will help you a lot we give you all applications for projects. Used to say and many things.
My other Article
That will help you in very short time. You will be able to create your own application with fantastic course ok we teach the scores from a many year and we update.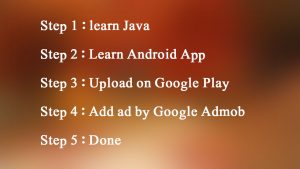 It is on occasionally ok, but thing is that what we have cover. In it ok you need to watch video training you there and there be explained. That he what we cover in our course. How you can purchase from US.